Aussie burger with Mountain Harvest Foods' sweet potato fries
---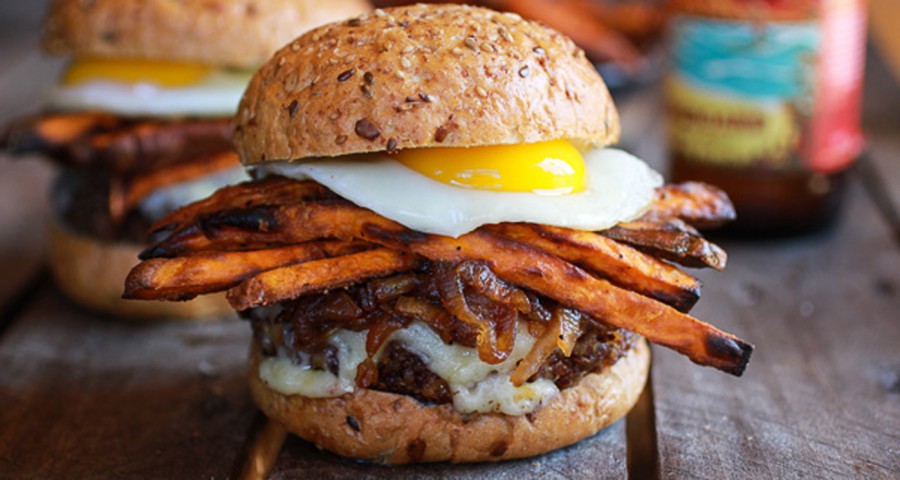 Let's talk burgers and sweet potato fries. There is simply no burger around that outdoes the Aussie burger – a juicy barbequed hamburger patty, tangy beetroot, sweet charred pineapple, smoky bacon, melting cheese and a rich and runny fried egg, all accompanied by a tart yet sweet tomato sauce, creamy mayo and buttery bun. Hands down the best.
Serve up this Aussie-style burger at your next barbeque alongside Mountain Harvest Foods incredibly delicious sweet potato chips from your local fish and chip shop, and you will have people talking for days! The best part about the sweet potato chips – they are totally addictive (yummy) and gluten free! Double win!
This recipe is so easy and you can modify it as you please, with your favourite additions. In the mood for cheesy goodness? Add a good melting cheese – in fact, we think we will. Not a fan of tomato sauce? Try a spicy mayo instead. Are you one of those people that think a burger isn't a burger without onion? No problem, toss some sliced onion on the barbeque and throw that smoky flavour right on top! Whatever you are craving, add it to the mix and you will not be disappointed.
Aussie Burger
1 ½ kg minced beef (don't go lean, unless you must)
5 garlic cloves, crushed
2 red onions, finely minced
A bunch of roughly chopped parsley
75 ml ketchup
2 egg yolks
50 ml oyster sauce
Toppings
6 slices pineapple, fresh
2 large tomatoes, sliced
1 Cos lettuce, separated and rinsed
12 slices beetroot
6 smoked back bacon rashers
6 slices of cheese (your choice)
6 burger buns (sliced down the centre)
Approx. 2 tablespoons mayo
For the Burgers
Step 1: For the burgers, mix together all of the ingredients listed above. Knead thoroughly, but only until everything is well-mixed. Do not over mix. Make 6 patties with a thumb indention in the centre (to keep patty flat during barbequing). Chill at least one hour, or up to one day.
Step 2: Prepare the barbecue by waiting until the coals are glowing. Add burger patties directly to the grates, no oil needed (we used fatty beef, remember?). Char the outside of the burgers on both sides over direct heat and then move to the side of the barbeque to finish cooking over indirect heat, about 10-12 for medium well.
Step 3: While the burgers finish cooking, barbeque your pineapple slices and bacon. When the bacon is just about done, add cheese to burgers and allow to melt. Butter your buns and toss on the BBQ to warm and crisp. Once everything is finished, remove from the BBQ and build your burgers.
Step 4: Slather a bit of mayo to the bottom buns and top each with a burger patty. Add the BBQ pineapple, beetroot, bacon, lettuce, tomato, respectively (just kidding, the order matters not) and the lids that have been spread with a little tomato sauce.
Add our Mountain Harvest Food's sweet potato fries to your plate and enjoy! (You can buy these from your local fish and chip shop or if you are a retailer, contact our national office today on +613 5968 1540).
This Aussie burger recipe is great because it is served alongside a healthy, locally grown and harvested delicious potato product, and it also can be made healthy in itself.
If you are not into beef you can use minced turkey or chicken for a leaner option, or even a veggie pattie – just be sure to add a little oil to BBQ to prevent sticking. You can play with the toppings as you please – adding or subtracting wherever you see fit. Add your favourite sauce instead of tomato or mayo, or even mix up your own! Try a take on a chilli mayo with a spicy chilli sauce (like Sriracha), mayo and a little salt to taste. Season your pineapple, or even add barbequed capsicum for an exciting bite!
Really, whatever sounds good to you, go for it. You will not be disappointed, that is a guarantee!