One of our favourite potato recipes – Potatoes au Gratin
---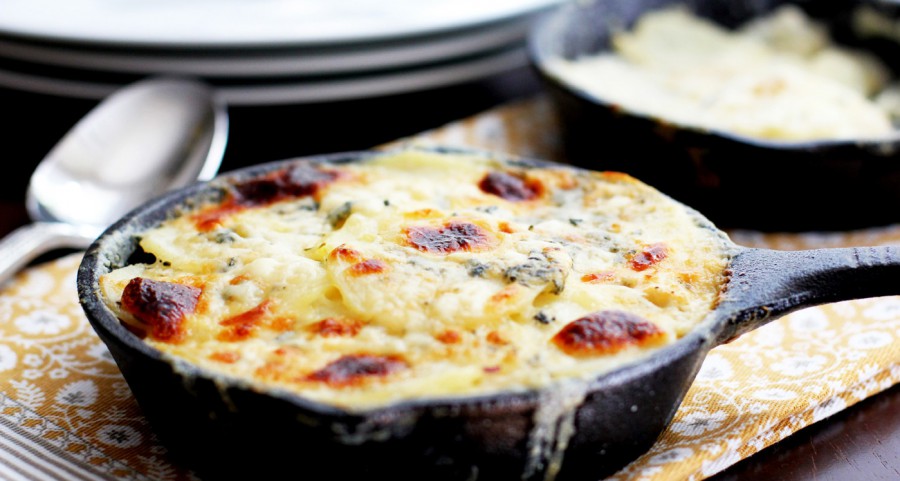 One of our favourite baked potato recipes is an old classic. It is one that graces the tables of many during the holiday season and periodically throughout the year. It is rich, it is decadent and it is delicious – it is potatoes au gratin.
This recipe involves thinly slicing farm fresh potatoes and layering them with a velvety cream sauce and fresh grated cheese, into a gratin dish and then baking until the smooth cream reduces and consumes the potatoes in a rich and silky blanket of goodness. This dish is most definitely worthy of special occasions, holidays and even as a side dish to a weekly meal. Just prepare yourself, it is rich and it is delicious; and it will leave you satisfied, not to mention full. Also prepare yourself, though the farm fresh potatoes pack a powerful nutritious punch, the heaping amounts of cream and piles of fresh grated cheese will for sure set your diet back a few days!
Potatoes Au Gratin
Servings: 6
Prep Time: 30 minutes
Cook Time: 60 minutes
Total Time: 1 Hour 30 Minutes
Ingredients
2-1/2 cups heavy cream
1-1/2 teaspoon salt
¼ teaspoon black pepper
3 large Yukon Gold or Russet potatoes (or whatever your local farmer has fresh), peeled and thinly sliced
1 cup Parmigiano-Reggiano
½ Pecorino
Pinch nutmeg
2 Bay leaves (for steeping)
3 cloves garlic, crushed (for steeping)
Butter to grease gratin dish
Instructions
Preheat your oven to 180˚C (350˚F) and liberally grease your 20cm (8-inch) baking dish with butter.
In a medium saucepan, combine heavy cream, crushed garlic, bay leaves, and nutmeg. Bring to a slight boil and reduce to simmer. Cover and steep 30 minutes. Once steep is complete strain and season to taste with salt and pepper.
In a small bowl, mix together grated cheeses. Set aside.
In your pre-greased baking dish, start with a layer of potatoes. Line the bottom of the dish with one layer – edges slightly overlapping – then sprinkle with about ¼ of cheese mixture and top with around ¼ of cream sauce. Repeat with remaining potatoes, cheese and sauce, forming approximately 4 layers – making sure that you end with cheese. Pour any additional cream on top, careful not to fully submerge the potatoes.
Place in oven and bake for approximately one hour, uncovered. Or, until the potatoes are fork tender, edges are bubbly and top is golden brown.
Let the potatoes sit for about 10 minutes before attempting to serve (this helps the sauce to thicken and settle). Enjoy piping hot!