Our favourite potato recipe – Roast Potato Salad with Mixed Herbs
---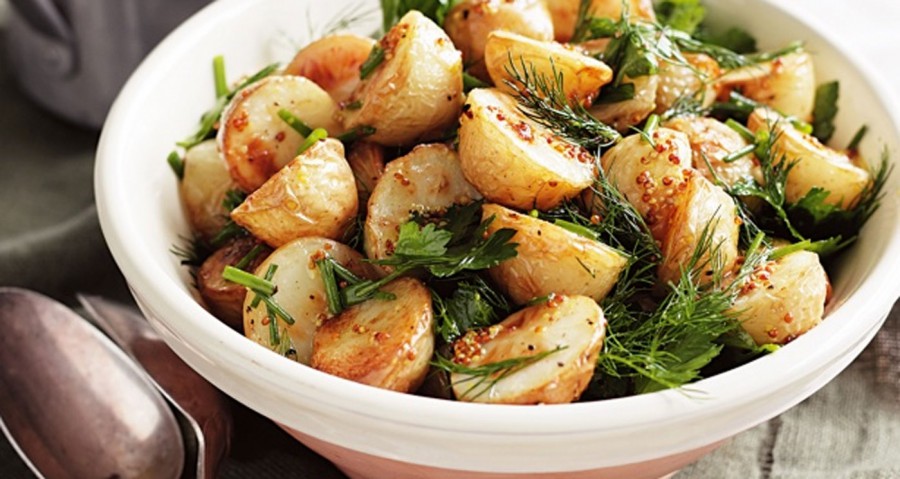 There are many different potato varieties grown in Australia. Each is unique in its dry content matter, as well as specific gravity. This means that each variety is unique in its own way, in that it has a cooking method that is more ideally suited for preparation over others.
The two main types of potatoes grown in Australia are waxy and floury. Waxy potatoes are low in starch and high in moisture. This type of potato tends to hold form well throughout boiling process and are therefore great for soups, salads and casseroles. Floury potatoes are better for mashing, baking, roasting, frying and are also perfect for chip making.
Potatoes can be used in many different ways to add a delectable side accompaniment to any dinner. Fancy sit down or backyard style dinner, potatoes are a must have for any occasion. This is particularly true any time that you plan on throwing something on the barbeque. Nothing goes better together than anything barbequed and potatoes.
This particular recipe calls for chat potatoes, but any potato that holds up well to roasting will do just fine. This recipe is simple, fast and delicious. Use whatever potatoes and whatever herbs you have on hand and the result will still be delicious! It is great for those warm summer months in that it is not quite too heavy, but just heavy enough to be substantial enough to provide for a satisfying accompaniment to any protein. The freshness of the mixed herbs really lets you know that summer is in full effect. Fresh, summery, versatile and easy – what more could you ask for in a potato dish?
Roast Potato Salad with Mixed Herbs
800g Chat potatoes, halved
½ cup fresh, chopped flat leaf parsley
2 tablespoons roughly chopped chives
¼ cup fresh, picked dill
2 tablespoons of extra virgin olive oil
Pinch of salt
Dash of pepper
Sweet and Sour Honey Mustard Dressing
2 teaspoons honey
1 tablespoon white wine (or cider) vinegar
2 teaspoons of coarse whole grain mustard
¼ cup of extra virgin olive oil
To prepare:
Step 1: Preheat your fan forced oven to 220˚C/200˚C. Place your halved potatoes in a bowl (remember that whatever you have on hand will do just fine) and add extra virgin olive oil. Season liberally with salt and pepper (seasoning liberally now will help to pull the flavours out of the potato while roasting). Toss the ingredients to combine well and pour into roasting pan.
Step 2: Roast for 35 to 40 minutes or until you see the potatoes taking on a nice golden colour. Take care to turn the potatoes about halfway through cooking. Remove from oven once golden, set aside and allow to cool (usually takes about 20 minutes, depending on the variety used).
Step 3: While the potatoes are cooling you can whip up the sweet and sour honey mustard dressing. In a glass jar with screw on lid, add your vinegar, olive oil, whole grain mustard, salt and pepper. Close lid and shake vigorously until combined. If you do not have a jar handy, simply add vinegar, honey and mustard to a glass bowl. Whisk and drizzle in olive oil a little at a time until properly combined. Season to taste with salt and pepper.
Step 4: Add the now warm (almost room temp) potatoes and the herbs to a large serving bowl. Drizzle your dressing atop and toss to fully combine. Add some additional herbs for garnish on top and serve. You can serve this dish immediately or store it for next day for cold serving.